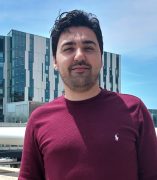 Ehsan Rahimi, PhD
Postdoctoral Research Associate
Research Assistant Professor
Urban Transportation Center
Contact
Building & Room:
CUPPA Hall, Room 343
Address:
412 S. Peoria St., Chicago, IL 60607
Email:
About
In his career, Dr. Rahimi has worked on various federally and state-funded projects that focus on enhancing mobility and transportation equity.  He served as a Postdoctoral Researcher for the UIC Transportation Laboratory (TransLab), a research group within the UIC Department of Civil, Materials and Environmental Engineering.
During his career, Dr. Rahimi has participated in studies that address: Econometric modeling of engineering systems with a particular emphasis to enhance the sustainability and resiliency of the civil infrastructure and facilitate decision and policymaking; transportation safety analysis and modeling; and innovative models to explore the role of new mobility and micro-mobility options in transportation networks, including electric and autonomous vehicles.
Dr. Rahimi was a recipient of the George Krambles Transportation Scholarship Awards, which is managed by the UTC, in 2019 and 2020.  He joins the UTC research team that includes four other UTC doctoral researchers and four PhD candidate researchers.