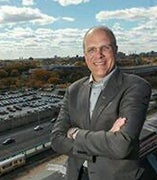 Stephen E Schlickman, JD
Principle, Schlickman & Associates
UTC Director 2010-2015
About
Stephen E. Schlickman, J.D., is the former Executive Director of the Urban Transportation Center (UTC) at the University of Illinois at Chicago (UIC), serving from 2010 to 2015.  He also is a member of the UIC adjunct faculty, teaching graduate courses in the funding and finance of transportation projects through the Department of Urban Planning and Policy.  His specialties include public infrastructure policy, finance, and advocacy.
Mr. Schlickman is the former executive director of the Regional Transportation Authority (RTA) of Northeastern Illinois, where he was responsible for the oversight, planning and coordination for the region's transit operating agencies: the Chicago Transit Authority (CTA), Metra and Pace.  Prior to joining the RTA, Mr. Schlickman operated a consulting practice that provided financial, project policy, and legislative advice to clients involved in all modes of surface transportation, as well as for water and urban park infrastructure activities. His resume includes leading the Chicago area's Business Leader for Transportation coalition, directing the City of Chicago's Washington Office and managing the team that designed a proposed new light rail transit system for downtown Chicago.
He has been a member of the Illinois Public Transportation Association (IPTA), serving as its president in 1989; on the legislation committee for the American Public Transportation Association (APTA), on the board for the Chicago Metropolitan Agency for Planning (CMAP) representing the Chicago Area Transportation Study (CATS) Policy Committee, and founding chairman of the New Starts Working Group, a national coalition of major transit expansion projects.  Mr. Schlickman has a law degree from DePaul University and an undergraduate degree from Georgetown University. In 1992, he was named to the prestigious "40 Under 40" list by Crain's Chicago Business.