Research Project
Mobility Management: State of the States Report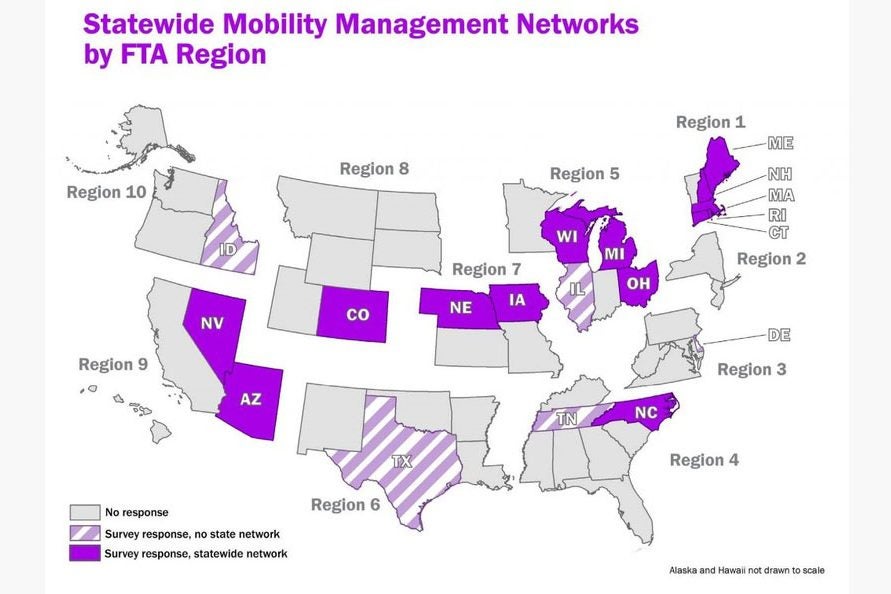 It was the objective of this report to shed light on these mobility management networks at the state level with the help of an electronic survey of state mobility managers and affiliated stakeholders. The survey was sent to 49 transportation professionals, each representing a different state. A key finding: Strong political backing is necessary as evidenced by the fact that most networks were brought into existence with legislative action, with the network being led by the respective state DOTs.
Principal Investigator

Research Area(s)

Data Development
Mobility

Funding Source

National Center for Mobility Management, Federal Transit Administration
Abstract
Mobility management is designed to respond to the individual needs of each rider, regardless of where they live or how they choose to get around.  Mobility management networks are networks that are designed to improve the overall mobility overall for any given trip, regardless of the rider characteristics, mode, or geography.  Mobility management thrives when there is a coordinated effort and combining of assets among private organizations and public agencies, all working together in pursuit of better service delivery at lower costs.  This report terms it as mobility management networks.  While these networks exist around the country, there is not a lot known about their role, their influence in providing mobility as a service (MaaS), or their ability in affecting mobility of individuals. Download the "Mobility Management: State of the State" report.