UIC Community Offers Thoughts in Memory of George Yanos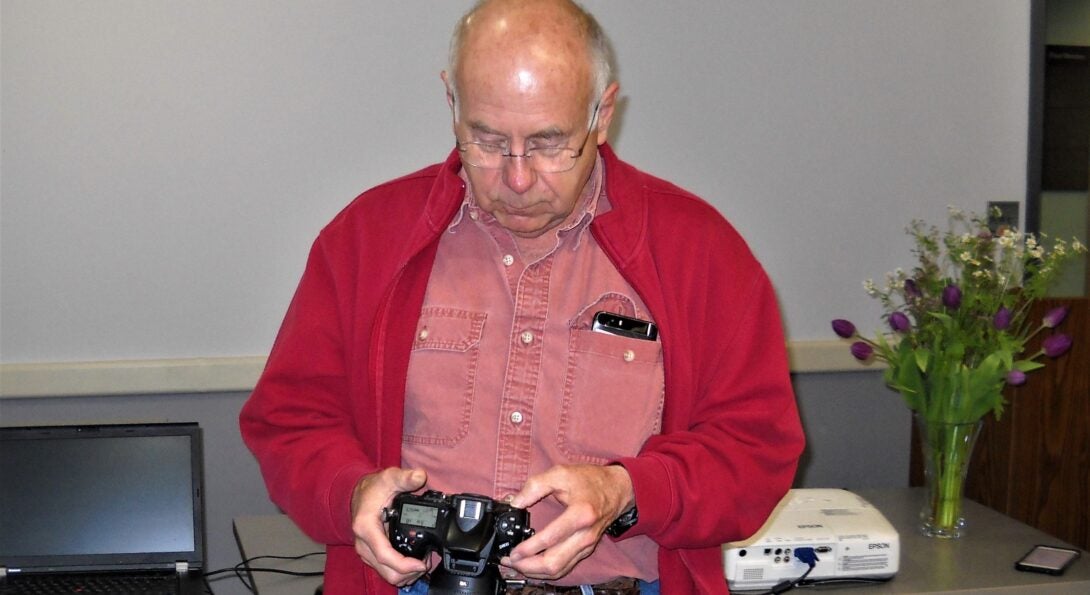 UTC Principal Research Programmer Led Remarkable Life
In May, the Urban Transportation Center and greater CUPPA community learned news of the passing of George Yanos, a remarkable and dedicated man who served as Principal Research Programmer at the UTC for some 30 years. Below are some thoughts on George and comments from those who knew and worked with George.
Born the son of a nurse and carpenter in Yonkers NY, George developed a sense of family through his relationship with his grandfather that guided the rest of his life.  His family moved to not quite rural Ohio, where he grew up in a house his grandfather designed and his father built.  Despite his mischievous streak, his wit, and his desire to frustrate those in authority, he graduated and went to Annapolis. Shortly afterwards, George and Annapolis determined it would be best if they parted ways.
He transferred to Ohio University where he worked the morning dishes shift in the cafeteria.  That cafeteria was where he met Jan Hagan.  She helped him pass an anthropology class, participated in an excavation to unearth the oldest ear of corn ever discovered in the State of Ohio, and fell in love. Jan married George on December 27, 1967 and they moved to Chicago where he worked a few different computing jobs before he landed at the Computer Center at the University of Illinois at Chicago.
Over the next several years George supported Jan in becoming a loveable dotty professor of Social Work, moved to Oak Park, became father to their only child, Nora.
George was at UIC for the rest of his career.  Overseeing the management of the punch cards (of which he has several thousand in the basement), to the installation of a supercomputer.  George, being humble, would not say this but he didn't argue with others when they pointed out that unlike Al Gore, he truly did help invent the internet.  After parting ways with the Computer Center, and a short stint as a high school mathematics teacher, he began working with his friend at the Urban Transportation Center.  While there he delighted in helping his colleagues and got great satisfaction by mentoring graduate students.
He and Jan lived for the rest of their almost 50 year marriage in Oak Park. She was an adventurous eater, theater goer, and power walker, him following along secretly loving it. Prior to her passing in 2014, he doted on Jan, her passions, and her hobbies. He struggled to talk about her after she passed, though you could see his love for her in the monarch butterfly garden that he has kept for her.
George was dedicated to working through problems, always learning (he called it being curious), he helped people to discover and achieve their goals, and be the support for those he called friends.   He had a love of feeding people that he inherited from his mother.  His favorite holiday was Thanksgiving, where he would cook pumpkin, apple, and cherry pies, mashed potatoes, and brussel sprouts.  After a small electrical explosion in the oven in the late 80's these holidays were punctuated by a grilled (and charred) roast turkey. He loved growing tomatoes, and making tomato sauce, and he would cook for a dozen even when feeding 3 or 4.
George was the person that you would take great pride in making laugh, and he would only tease the people if he truly cared for.  He was the one that you would go to when you needed something, though he didn't recognize that in himself.  He was the computer assistant, carpenter, get you out of trouble with mom (both for his daughter and grandkids), and giver of perspective in any challenging situation.  He would always help those who needed it, sometimes when they didn't know they did.  At these times he never truly understood the gift that he had given, the love he was showing, or the impact he had on the recipient.
This loving father and doting "Georgie" left us on the morning of Friday May 12, 2023. He is survived by his daughter and best friend Nora (Scott), his grandchildren Belle, Ryan and Julia, his dogs Dashi and Kechi, and the family of his brothers John and Paul, nieces and nephews.
The UTC family lost a stalwart, colleague, and a friend in George Yanos. He will be hard to replace and UTC will never be the same without George. Personally, I lost a friend and a well-wisher.  We extend our condolences to his daughter, grandkids, and the extended Yanos family. Dr. P.S. Sriraj, Director Urban Transportation Center and Research Associate Professor
I am very sorry about George's passing.  My sincere condolences to his family.  He was a most generous and kind colleague of mine, and an invaluable resource for computing and more to me and the UTC family.  Dr. Paul Metaxatos, UTC Associate Director for Research Programs and Research Associate Professor
I am so sorry to learn of George's passing. He was always a gracious and kind person.  And we had something in common: We both have western Pennsylvania roots and loved Chicago. My condolences to his family.  And to his UTC family. Dr. Michael A. Pagano, Dean Emeritus, UIC College of Urban Planning and Public Affairs
Not only was he a colleague at UIC, we were neighbors in Oak Park for many years. His house was along my regular jogging route and I occasionally bumped into him, usually walking his dogs or grandson (or both). He was so wise and caring and was my "go to" source for advice on local information such as finding good dentists, car repair shops, accountant, etc. Chiaki and I are always appreciative of the baby shower for my son, Takuma, they hosted at their house 21 years ago. Dr. Kazuya Kawamura, UIC Professor, and Wife Chiaki
So very sorry to hear the passing of George. He was such a gentle, warm hearted, and funny individual. Couldn't believe the sad news. My sincere condolences to his family. Dr. Jane Lin, UIC Associate Professor
I had an office next to George's when I was a postdoc at UTC and got to know him a bit. I also relied on him for different things back then and also when I later started at UPP. I liked George very much, he was a good man. My sincere condolences to his family.  Dr. Nebiyou Tilahun, UIC Associate Professor
I remember George from his days as Director of the UICC and UIC Computer Center in the early 1980's. He was a big help in assisting research faculty members across all colleges in accessing their huge databases stored on computer reel tapes and their programming.  George was an avid bicyclist; he frequently commuted to UIC down Roosevelt Road from his home in Oak Park.  When I was president of the UIC Cycling Club, he greatly appreciated the Club for posting regional bicycle rides on UIC's mainframe computer bulletin board for the UIC community. Dr. Joseph Fazio, Visiting Research Specialist
When I started at the UTC in summer 2013, IDOT announced plans to begin the Byrne Circle Interchange project.  By spring of 2014, the UTC maintained a web cam atop University Hall to monitor the massive multi-year construction project. Visitors to the UTC website could get a live stream of traffic and construction.  I don't recall all the details, but it was George who initiated the program and help manage the live stream. Edward M. Bury, UTC Public Information Coordinator
Modified on May 18, 2023