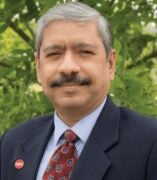 P.S. Sriraj, PhD
Director of the Urban Transportation Center, Director of Metropolitan Transportation Support Initiative (METSI) and Research Programs, Research Associate Professor
Urban Transportation Center
Contact
Building & Room:
CUPPA Hall, Room 370
Address:
412 S. Peoria St.
Office Phone:
Email:
Address:
412 S. Peoria St.
About
In September of 2016, Dr. P.S. Sriraj was appointed Director of the Urban Transportation Center at UIC. He also is Director of the Metropolitan Transportation Support Initiative (METSI) and Research Associate Professor.  His areas of expertise include public transportation systems, equity transportation improvement, program evaluation and addressing systems thinking/complex problems.
Since 2000 he has served as principal investigator or a senior researcher on more than 25 funded research projects, generating more than $12 million in research funding. His research has addressed the integration of transit modes, mobility issues for environmental justice population groups, alternative funding sources for intercity passenger rail, the benefits of freight infrastructure improvement, transit technologies and developing performance measures for transportation systems.
In August of 2020, Dr. Sriraj was appointed to the Board of the Illinois International Port District by Illinois Governor J. B. Pritzker.
He serves as the Associate Editor the Journal of Public Transportation, the Journal of Geographic Information Systems, as well as Vice President for the Transportation Research Forum and Executive Committee Member for the Council of University Transportation Centers.
Dr. Sriraj earned a Doctor of Philosophy degree in civil engineering and a Master's of science degree in civil engineering from the Illinois Institute of Technology. And, he holds a Master's of Science in physics and a Bachelor's of Engineering in Civil Engineering from Birla Institute of Technology & Science, Pilani, India.