Research Project
A New Approach to Public Engagement: Capturing Better Ideas and Representative Priorities from the Public for the Illinois Department of Transportation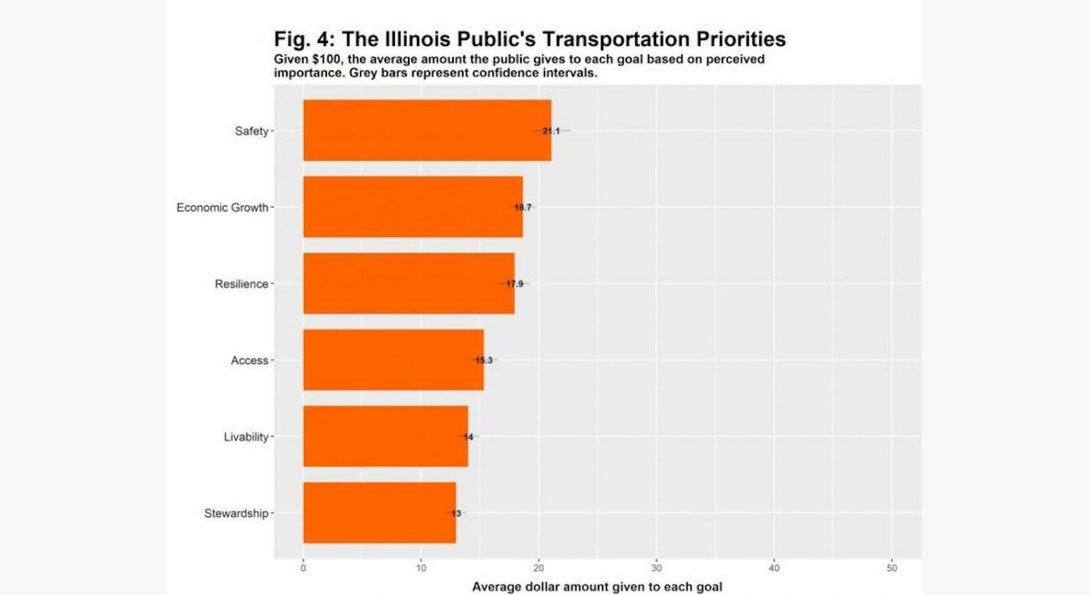 The purpose of this study is to utilize an innovative online engagement method to generate high quality and representative input from the public regarding priorities and ideas for the transportation network in Illinois.
Principal Investigator

Research Area(s)

Data Development
Policy Analysis

Funding Source

Illinois Department of Transportation
Abstract
The Illinois Department of Transportation (IDOT) has committed to improving its public engagement program and the quantity and quality of feedback and ideas it receives from Illinois residents. In 2016, IDOT commissioned a study — Recommendations to Enhance Quality Engagement — to identify effective public engagement strategies for statewide Departments of Transportation. To build on the 2016 report, researchers from the Institute for Policy and Civic Engagement (IPCE) and the Urban Transportation Center (UTC) completed a follow-up study in early 2017 that utilized an innovative online approach to supplement IDOT's traditional public engagement methods. Through a multi-phased process, residents of Illinois voted on and submitted ideas and ranked their priorities related to transportation goals and modes.  The unique strength of this multi-phased process was its ability to capture high quality ideas from the public and statistically representative public priorities – it was both open and representative. Download the "A New Approach to Public Engagement: Capturing Better Ideas and Representative Priorities from the Public for the Illinois Department of Transportation" study.