Research Project
Decision Analysis to Address Extreme Weather: Extreme Weather Effects on Ridership and Modeling the Decision to Invest in Canopy Coverage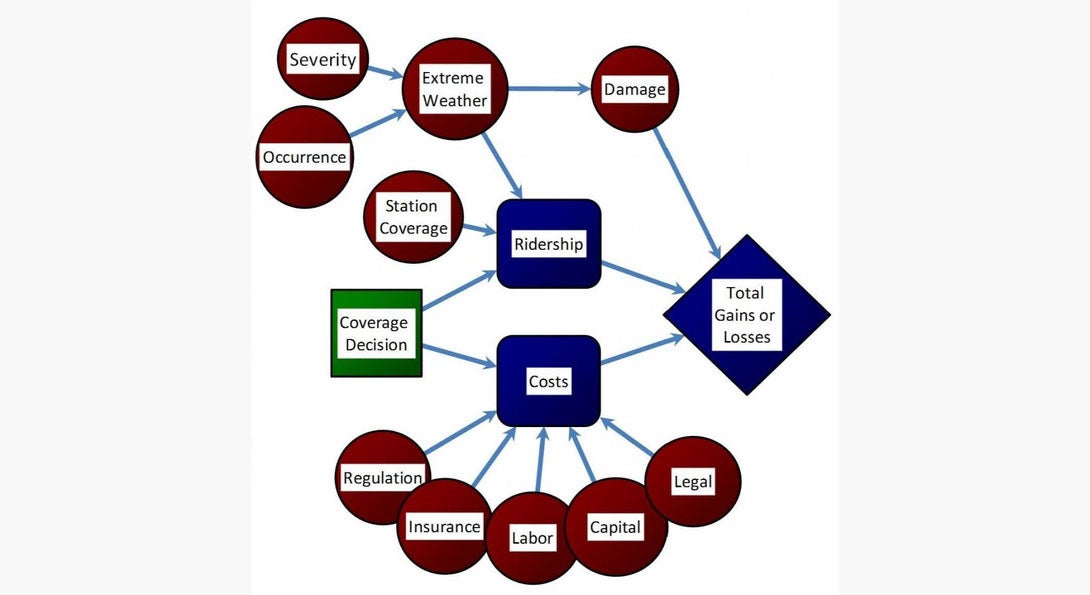 Researchers set out to demonstrate how selection among different types of station coverage infrastructure may mitigate the loss of ridership due to extreme weather.
Principal Investigator

Research Area(s)

Data Development
Policy Analysis
Transit

Funding Source

Center for Urban Transportation Research (CUTR)
Abstract
This project applies a decision analytic methodology that takes considerations of extreme weather events to quantify and assess canopy investment options. The project collected data for two cases studies in two different transit agencies: Chicago Transit Authority (CTA) and Utah Transit Authority (UTA). The CTA case focuses on rail transit station coverage and the UTA analysis focuses on bus stop canopy coverage. The report is constructed in three parts. Part I presents the decision analysis approach and overall project design. Part II presents analysis to assess how canopy coverage effects ridership and revenue on extreme weather days. Part III integrates the analysis from Part II and other data into a final decision tree to present a workable decision model. Download the "Decision Analysis to Address Extreme Weather: Extreme Weather Effects on Ridership and Modeling the Decision to Invest in Canopy Coverage" report.