Krambles Awards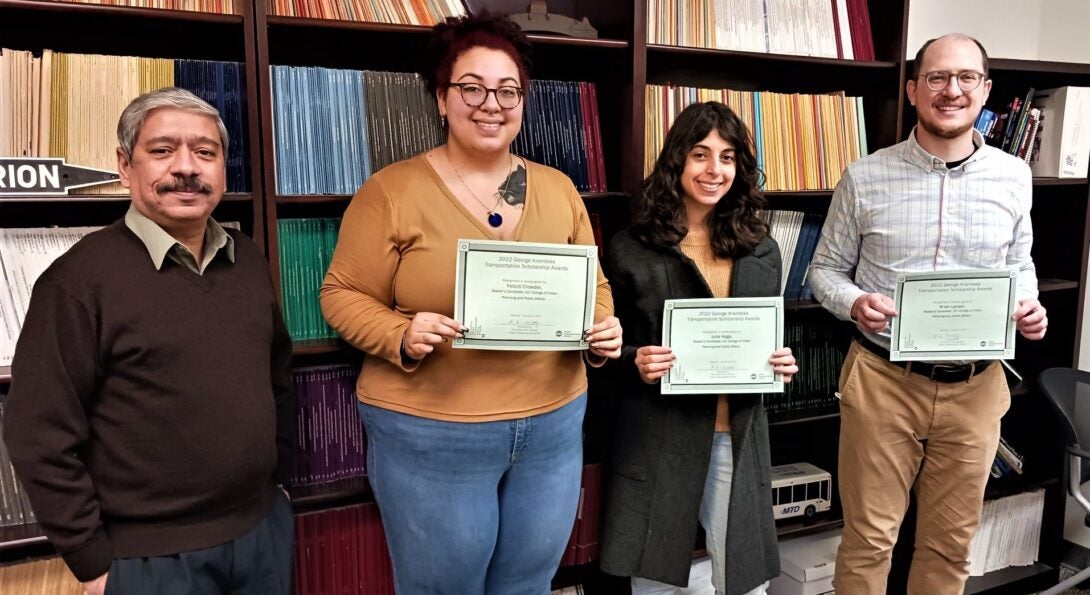 Applications Being Sought for 2023 Krambles Awards. Deadline December 4
The annual UIC George Krambles Transportation Scholarship Awards program was established to honor the accomplishments of a legendary Chicago public transit leader.  The program is open to any PhD or Master's degree candidate or undergraduate student within the University of Illinois at Chicago College of Urban Planning and Public Affairs who is studying transportation and plans a career in the transportation industry.
Students within the UIC College of Engineering, College of Business Administration and School of Public Health who have completed research or studies in public transportation also are encouraged to apply. This year marks the 17th year the Krambles Awards Scholarship program has been managed by the Urban Transportation Center.
Scholarship recipients will be announced in January 2024. All submissions must be related to some aspect of public transit, such as: Planning, policy, operations and management.  All participants must demonstrate that he or she plans to pursue a career in the transportation industry.
How to Participate:
Letter: Draft a letter of interest detailing why the candidate plans to pursue a career in transportation.
Resume/CV: Submit a current resume or CV, including Grade Point Average. Applicants must be in good academic standing.
Transcript: Submit an academic transcript from an accredited institution of higher education.
References: Furnish three references (name, email, phone and affiliation).  Two of the references should be from the academic community.
Judging Criteria:  All submissions will be judged on these three criteria:  a) The effectiveness of the candidate's statement on pursuing a career in public transportation; b) The resume and academic standing of the student; c) The caliber of the references.
Submission Timeline: Students planning to participate in the 2023 Krambles Awards must submit all required documents by 5 p.m. Monday December 4, 2023.
How to Enter: Candidates must submit all required materials in print format to Dr. Paul Metaxatos, Urban Transportation Center, Suite 340 CUPPA Hall (m/c 357), 412 S. Peoria St., Chicago, IL 60607, or electronically as a single PDF document to pavlos@uic.edu.  Questions should be directed to Dr. Metaxatos at (312) 996-4713 or Edward Bury at 312-413-1967 or ebury@uic.edu.
Scholarship Awards: Scholarship awards will be given based on the recommendations of the awards judging committee.
Three UIC students representing the College of Urban Planning were awarded a 2022 Krambles Transportation Scholarship.  The recipients were announced January 9, 2023 during the UTC and CUPPA Alumni Association reception held during the 2023 Annual Meeting of the Transportation Research Board.
Recipients for 2022 are:
Feliciti Crowder, Masters, UIC College of Urban Planning and Public Affairs.  Prior to attending UIC, Feliciti was not an active user of public transit or aware of the value of transportation in helping to improve communities and help build social equity across metropolitan Chicago. An intern with the Chicago Transit Authority, Feliciti noted in her nomination letter that her goal in transportation would be to develop "a socially just, sustainable city where citizens can rely on public transportation, as well as walkability." Regarding the CTA internship, Feliciti benefitted by experiencing "the company dynamic and workplace culture of such a crucial transportation giant."
Julia Hage, Masters Candidate, UIC College of Urban Planning and Public Affairs.  In 2021, Julia served as an intern with Equiticity. That experience gave her "the opportunity to be part of a small team who interviewed representatives from national thought-leading transportation advocacy organizations on their initiatives to progress racial equity in transportation." Julia served as an intern in 2022 with the Chicago Metropolitan Agency for Planning, where she assisted on a project related to Elevated Chicago's mission to bring transit-oriented development near CTA train stations in neighborhoods of most need.
Brian Larson, Masters Candidate, UIC College of Urban Planning and Public Affairs.  As the survivor of an automobile accident, Brian gained a greater awareness for the value of public transportation, especially in the northwest suburb where he resided.  With his car totaled, Brian wrote: "My ability to take the bus ensured the wider community was still open to me and I was not bankrupting myself to be part of it."  The recipient of the 2022 Reba Malone Scholarship from the American Public Transportation Association, Brian plans to work "towards developing the next generation of public transportation services."
Announcement of Winners: Scholarship winners for the 2021 competition were announced in Spring 2022.
Krambles Awards Archive Page
Visit the George Krambles Transportation Scholarship Awards Archive page to learn more about Mr. Krambles and past scholarship winners.