Three Honored with Krambles Awards for 2021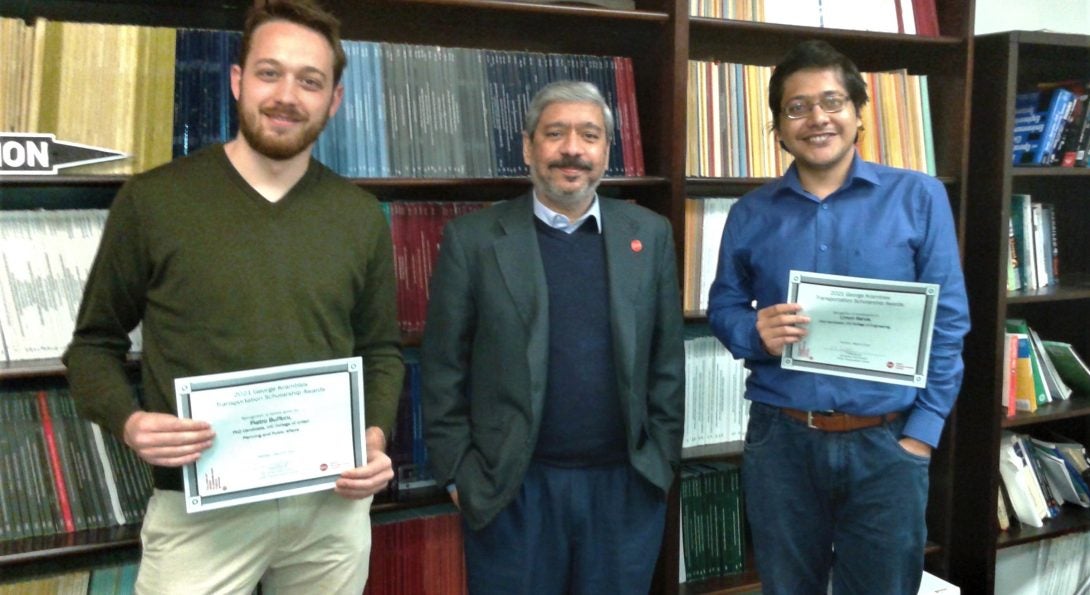 Recipients from CUPPA and College of Engineering Earn Cash Scholarships
A doctoral candidate and master's candidate from the UIC College of Urban Planning and Public Affairs (CUPPA) and a doctoral candidate from the UIC College of Engineering are recipients of the UIC George Krambles Transportation Scholarship Awards for 2021.
Each received cash scholarship awards for their participation in the program, which has been managed by the Urban Transportation Center since 2007.  Here are the recipients:
Pietro Buffoni, a PhD candidate at UIC who is studying the integration of tech-enabled transportation solutions into transit agencies planning practices.  A research assistant at the UTC, Pietro earned a Master's Degree in Urban Studies in 2018 from Sciences Po – Urban School in Paris, France. Prior to pursuing his doctorate, Pietro work in international development for Opendatasoft, a company that offers data sharing software, in London and Boston.
Limon Barua, a PhD candidate at UIC in Civil Engineering.  Limon has focused his research in the field of sustainable mobility and city logistics.  His goal is to become a domain
expert and build a knowledge base for developing nations to increase institutional capacity in congestion management decision-making methods.  He earned his Master's degree in Civil Engineering from UIC in 2020.
Matthew Krause, a Master's degree candidate, aspires to promote sustainable and equitable cities through a career in transportation.  A research assistant at the UTC, Matthew is completing an internship at the Regional Transportation Authority.  He earned the Gao-Zhang Graduate Fellowship for 2020-2021.  From 2017 to 2020, Matthew worked as a GIS Analyst at the Kinder Institute for Urban Research at Rice University in Houston, Texas.
The image here shows Pietro Buffoni (left), UTC Director Dr. P.S. Sriraj, and Limon Barua (right.)
Watch for news this fall about applying for the 2022 Krambles Scholarship Awards.
Modified on April 05, 2022