Pandemic Curtailed Intercity Bus Operations In Illinois, Especially in Rural Counties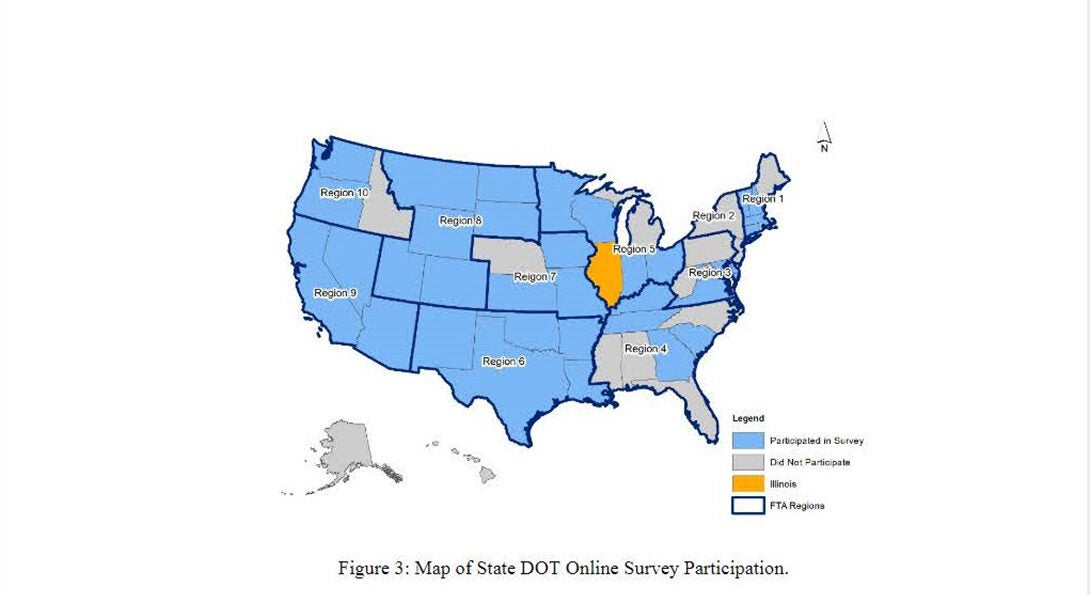 Technology Can Help Improve Service Statewide and Nationally, According to Study From Urban Transportation Center at UIC
CHICAGO (April 2023) – Demand by passengers for bus service between cities in Illinois and across other states declined markedly in the years prior to and since the outbreak of the COVID-19 pandemic in early 2020.  As 2023 unfolds, intercity carriers continue to face a number of challenges in providing regular bus service, most notably due to a loss in ridership leading to a decline in revenues, lower fuel prices, and reduced airfare costs.
Those are among findings from a research study, "Statewide Intercity Passenger Transportation in Illinois," completed in late 2022 by the Urban Transportation Center at UIC and funded by the Illinois Department of Transportation.  Researchers also provided insight into how states use federal funds allocated to improve intercity bus operations, shared recommendations on ways to enhance bus services, and estimated demand for intercity bus service in Illinois.
The decline in population density living in rural communities – especially within 25 miles of a bus station, ferry terminal, rail station, and a non or small hub airport -- was noted as a factor behind the decline in intercity bus usage. As cited in the study, intercity bus coverage in 2010 dropped to 78 percent of the nation's population from 89 percent five years earlier.  From a statewide perspective "Illinois, in particular, has seen a loss of population in 93 of its 102 counties from July 2010 to July
2019," the report stated.
Across Illinois, intercity bus transportation is not an option for a significant number of rural residents. As noted by the researchers: "Sixteen counties in Illinois have none of their population … within a 25-mile radius of intercity bus services, even when considering the availability of feeder services that could transport people to a stop if it existed."
Financial support for intercity bus service is allocated by the Federal Transit Administration through the Intercity Bus Program Section 5311 (f).  The study noted the funds could be used productively for these enhancements:
Creation of a universal bus tracking database to replace the proprietary systems now used by individual operators.
Promoting interoperable ticket scanning among carriers.
Launching marketing campaigns to promote bus ridership.
Promoting the expansion of funding to support small, urban areas which may benefit from intercity bus service.
Interviews were conducted in mid-2020 with eight Illinois bus operators to gain insight into the need for service provisions, management of Section 5311 funding, and recommendations on ways to improve intercity and rural bus service.  Operators revealed the key challenges they face included the cumbersome funding process, the scarcity of capital funds needed to purchase new vehicles and establish new routes, and a lack of long-term commitment to the growth of a sustainable intercity bus network.
The interviews also revealed some quite specific concerns.  As noted: "One carrier reported past conflicts with a now-defunct rival carrier (that had previously dominated the market for one of the provider's new routes), while another identified a specific competitor that was provided state-owned buses by the State of Michigan, allowing them an advantage over Illinois-based companies that do not receive similar support. An online service-aggregation company reported general hostility from other carriers."
The study was completed by UTC Director Dr. P.S. Sriraj, Dr. Paul Metaxatos and Dr. Jaeyong Shin, with support from PhD candidates and graduate student researchers.  Click on this link to read an abstract and download the complete report.
The Urban Transportation Center at UIC is dedicated to conducting research and education and providing technical assistance on urban transportation planning, policy, operations, and management. The UTC is part of the College of Urban Planning and Public Affairs, a nationally-recognized innovator in education, research, and engagement in support of the nation's cities and metropolitan areas.  Learn more at www.utc.uic.edu.
Modified on April 06, 2023